Selling a Home in Sanibel or Captiva FL
WE KNOW THE SANIBEL AND CAPTIVA REAL ESTATE MARKETS.
It has always been our firm belief that we can best serve our clients with in-depth knowledge of a small market vs. a little knowledge of a wide area. Sanibel is a unique and diverse community. Each neighborhood has its own character. Each neighborhood appeals to a different buyer. To obtain the highest possible sales price for your home, the marketing must reach the right buyers with the right message. We have the network and experience to do this.
WE HAVE THE CREATIVE TALENT TO SHOWCASE YOUR HOME.
The old adage, "You can't judge a book by its cover" is passé today. This is a fast-paced, image-oriented society in which we live. First impressions really do count! Every piece of information on your property, whether it be a brochure, the wording in the Multiple Listing Service, a presence on the Internet, or a well-placed advertisement, must show your home in the best possible light.
During all phases of a listing from the initial paperwork and promotion through the very last details of the closing, we personally attend to all of the details. As a result, the large majority of our transactions come through referrals and repeat business.
CLICK BELOW TO VIEW AND DOWNLOAD OUR LISTING BROCHURE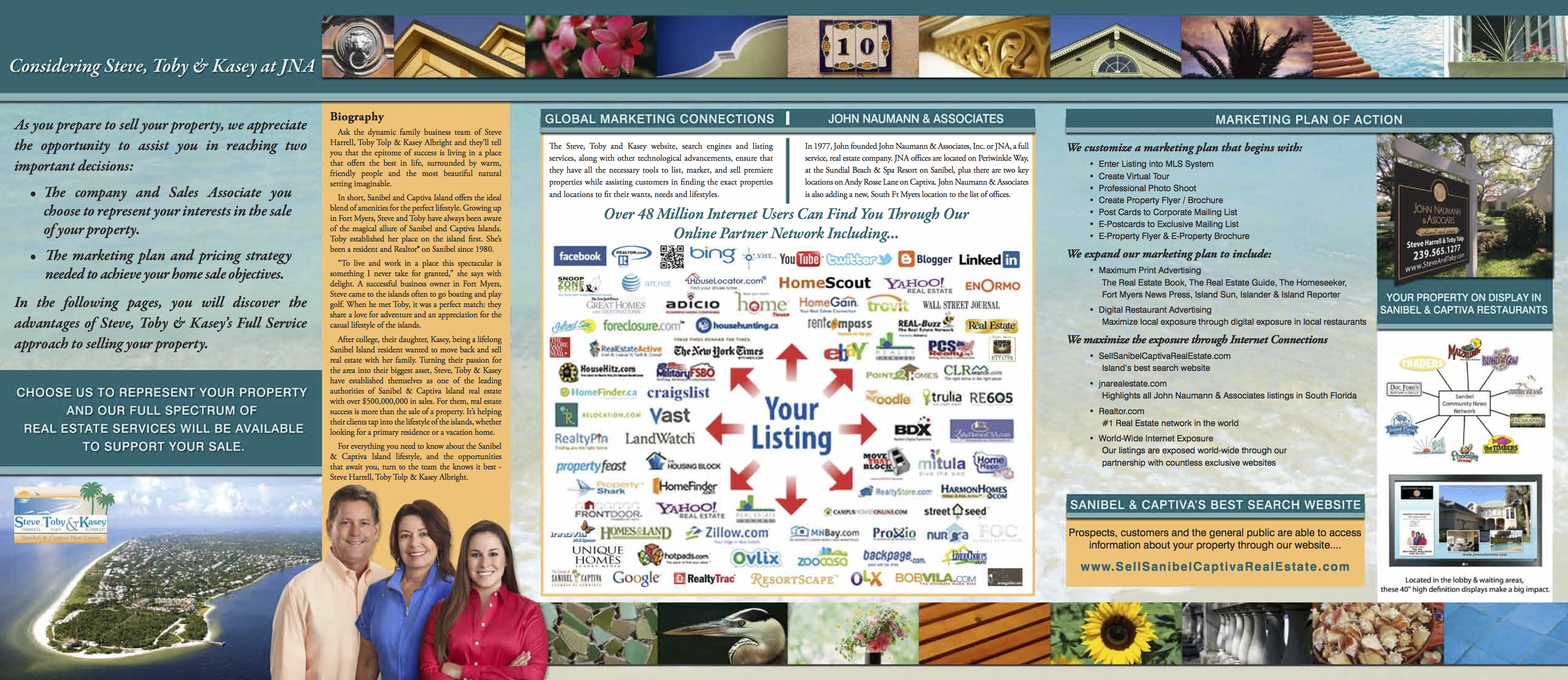 Testimonials
Ratings speak for themselves. I would simply add that we have purchased 2 homes and sold 1 using this team. Repeat use speaks volumes to me and so it should to others. Decades of local knowledge and experience on both sides of real estate transactions keep me coming back to them. They know the market and they know what theyare doing and they are highly ethical and very responsive.
Keith S.
Steve has been very helpful in several transactions for us. I recommend them.
Sheridan S.
Great company and more importantly great people. We would recommend them as a results realtor! Our Florida Condominium was sold within one week at top dollar at that time (2015). Showings were always conducted by one of their personnel.
Bob D.